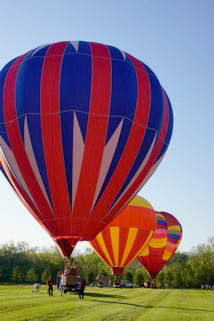 CAP MEMBERS, YOUR FRIENDS, AND FAMILY MEMBERS.....
Please join us for an exciting day of AERONAUTICAL OVERLOAD at
THE GREAT MINNESOTA WING AEROSPACE FLING!!!!
Saturday 18 May 2019 1000 - 1630 South St. Paul Fleming Field (Wing HQ)
6275 Crossman Lane, Inver Grove Heights, MN 55076
UOD: BDU/ABU or corporate equivalent
Registration Link at bottom of the page
Cost is FREE!!! Check out our awesome event video!
https://photos.app.goo.gl/eeaCoF5nv8aRZURa8
Rain or shine activities and exhibits include: Tour warbirds at the Commemorative Air Force Museum including the B-25 Bomber! - Drones - Radio Controlled Aircraft - Fly flight simulators - Ride a hovercraft - Fascinating air pressure experiments - We'll IMPLODE a 55-gallon oil drum! - Aviation Thrills video theater - Model Rocketry - Aircraft recognition - Talk to airline and military pilots - Guest speaker: F-4 Phantom pilot Maj Kirk Ransom, USAF (ret) with 60 missions over North Vietnam - Flight line marshaling training - Aviation photography - Gliders - Meteorology - and more!!
Weather Permitting: We'll partially inflate a giant hot air balloon!! - Landing and presentation with Sheriff's Dept. helicopter! - Numerous aircraft displays inculding a Cirrus, L19 Bird Dog, Pitts Special aerobatic biplane, gyrocopter, Powered parachute - Ercoupe - TBM turboprop - Blanik glider, etc.
FREE LUNCH!!!!
Cadets, WE NEED CAKE for dessert!!!
Cadets can enter the GREAT AVIATION-THEMED CAKE CONTEST for a chance to win a
cash prize of $25 for First Place, $10 for Second and Third Place!
Get creative and START BAKING!!!!
(Cakes must arrive by 1030)
Registration
Please Register as soon as possible for planning purposes but preferably by 04 May.
Questions or amendments to your registration can be directed to project officer Maj Jim Zurales at jimzurales@gmail.com
Plan to arrive at 1000 so you don't miss a thing!!!
*** PLEASE REGISTER HERE ***
https://forms.gle/AUw2Bsm3dCPQvCxR9
ACCOMODATIONS FOR OUR OUT OF TOWN GUESTS...
EnVision Hotel is offering a special rate starting at $79 if booked by 04 May.
Group Name: Great MN Wing Fling
Group Code: JG47D4
enVision Hotel St. Paul South, an Ascend Hotel Collection Member
701 Concord Street South
South Saint Paul, MN, US, 55075
+1 (651) 455-3600
ALSO.... Wyndham Hotels offer a discount for CAP members. More info at...
WWW.gocivilairpatrol.com > Join > Member Benefits > Travel Discounts > Wyndham Hotels
Don't miss this special event just for CAP, friends, and family. See you there!!!